May 9, 2019
ASP & Geography Department Awards & Graduation Reception Spring 2019
Image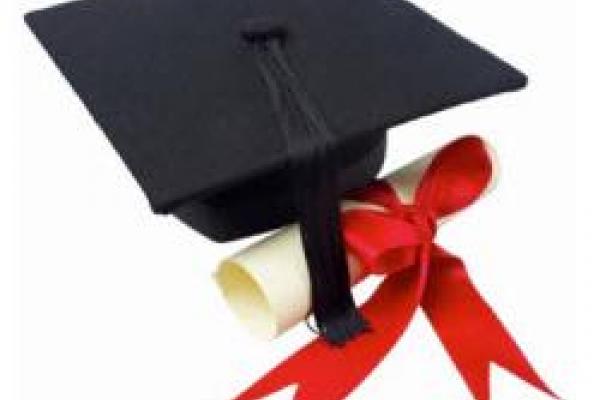 Description
At the annual Geography Department Awards and Graduation Reception on May 3, 2019, the department presented awards to our outstanding Faculty, Staff and Students.

Our new Chair Dr. Darla Munroe got things started by recognizing our faculty who recently achieved Promotion, Tenure and new Faculty Appointments as well as our outstanding Staff awardees.
Associate Professor Max Woodworth
Professor Mat Coleman
Vice Provost for Global Strategies and International Affairs Gil Latz
Associate Vice Provost Academic Enrichment and
Executive Director of Honors & Scholars Ola Ahlqvist
Divisional Dean Social and Behavioral Sciences Morton O'Kelly
S. Earl Brown Outstanding Staff Award:  Nancy Coscia Undergraduate Program Coordinator
Arts & Sciences Staff Excellence Award:  Suzanne Mikos Department Manager
Congratulations to our Faculty and Staff.
Graduate Student Awards:
The Graduate Student Awards were then distributed by Professor Becky Mansfield, Chair, Graduate Studies.
It is a pleasure to be here today. This is the fourth and last time I'm here, as chair of graduate studies, to recognize many of our wonderful graduate students. As I honor our departmental award winners and those who are graduating, I hope you get a sense of how interesting and accomplished our graduate students are. They are active professionals—becoming experts in their fields—who are doing research, receiving competitive funding, and publishing on an array of important, timely topics. Four different awards, and all the students graduating now or in Summer.
Fenburr Travel Scholarship for Outstanding Graduate Students (2x $1000)
The Fenburr scholarship is intended to offset costs of travel associated with professional development, which typically refers to activities related to the conduct or dissemination of research, such as training workshops, conferences, or fieldwork. This competition is open to PhD and Master's students. This year we are able to make TWO awards.
Yuechun Wang, Steven Quiring advisor, Yuechun is using this scholarship to attend classes and workshops at the National Center for Atmospheric Research on the Weather Research and Forecasting model.  
Arianna Hall-Reinhard, Becky Mansfield advisor, Arianna is using this scholarship to conduct fieldwork on mental health issues associated with climate-change related disasters such as wildfires.
Lakshmanan Chatterjee Fellowship for Outstanding PhD Students (2 x $3500)
This endowment was established with gifts from Dr. Tiruvarur Lakshmanan and Dr. Lata Chatterjee to be used to recognize distinguished graduate students either from the Global South (Asia, Africa, or Latin America) or carrying out research on the Global South. The award should support a student professionally focused on issues of benefit to humanity, and with demonstrated professional promise. We have TWO of these awards. 
Rohit Mukherjee, Desheng Liu advisor, Rohit will use these funds for attending conferences related to Remote Sensing and Machine Learning.
Sohyun Park, Darla Munroe advisor, Sohyun will use this fellowship to conduct fieldwork on the strawberry commodity chain in South Korea, to understand changes in land use, global trade, and technology diffusion.
Rayner Scholarship for Fieldwork (1x $3500; PhD only)
This scholarship, established by OSU emeritus faculty John Rayner, is intended to support fieldwork endeavors by graduate students. 'Fieldwork' is understood as any form of data generation that is conducted in order to address a research question. We award one Rayner scholarship.
Jenny McGibbon, Mat Coleman advisor, Jenny will use this scholarship to conduct fieldwork in Washington, DC, as part of her research on sex workers' rights.
The E. Willard and Ruby S. Miller Award (2x $4000; PhD only)
The Miller Award is the highest recognition the department can bestow on a graduate student. We give the award to recognize students' potential to make a major contribution to geography or its subfield(s), particularly through scholarship and scholarly writing. Awardees must have at least one single-authored or first-authored paper in a major professional journal in Geography or Atmospheric Sciences. We are very excited to be able to give two Miller Awards this year.
Chengfei He, Zhengyu Liu advisor, This award recognizes Chengfei's research accomplishments on the topic of the Asian Monsoon Evolution from the Last Glacial Maximum to the early Holocene. Chengfei has an outstanding record of publication, including a first authored paper in Nature Climate Change.
Jinhyung Lee, Harvey Miller advisor. Jin's research is on Measuring the Impacts of New Mobility Services on Equitable and Reliable Space-Time Accessibility. Jin also has an outstanding record of publication, including three recent first-authored papers, in Transportation Research Part D, Applied Geography, and the Professional Geographer.
Presidential award (recognition of University award…)
We are also very pleased to recognize our Presidential Fellows for this year. Awarded by the Graduate School, "Presidential Fellowships recognize outstanding scholarly accomplishments and potential of graduate students entering the final phase of their dissertation research ... They provide financial support so the fellow may devote one year of full-time study to the completion of the dissertation … unimpeded by other duties. Recipients of this award embody the highest standards of scholarship in our graduate programs."
Sam Kay won a fellowship in the AU competition. Advised by Max Woodworth, Sam is conducting fieldwork in China, on how efforts to "green" Beijing displace poor workers.
Jerry Zou won a fellowship in the SP competition. Advised by David Bromwich and Alvaro Montenegro, Jerry is conducting research on melting ice sheets in West Antarctica.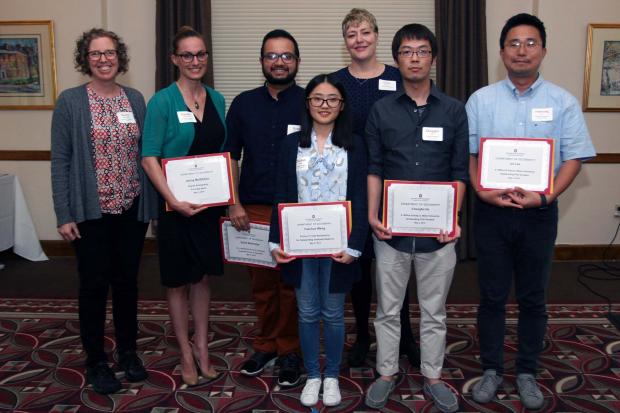 Becky Mansfield and Darla Munroe with the Graduate Student Award Winners, Jenny McGibbon, Rohit Mukherjee, Yuechun Wang, Chengfei He, and Jinhyung Lee.
Graduating Masters and PhD students and their advisers
SPRING

Nora Sylvander, Kendra McSweeney
Rebecca Chapman, Darla Munroe
Jeff Gunderson, Bryan Mark
Dakota Crane, Alvaro Montenegro
Lingwei Li, Zhengyu Liu
Emily Sambuco, Bryan Mark
Mary Grace Thibault, Alvaro Montenegro

SUMMER

Debangana Bose, Nancy Ettlinger
Bonnie Bounds, Darla Munroe
Jay Liang, Desheng Liu
Jordan Pino, Steven Quiring
Claire Jones. Elisabeth Root
Luyu Liu, Harvey Miller

 
That is everything on the graduate program. Congratulations to all of our award winners and graduating students.
Undergraduate Awards:
Our Undergraduate Program Coordinator Nancy Coscia now handed out our undergraduate awards. 
We awarded six undergraduate awards to 11 outstanding students and recognized 92 students as part of the Spring 2019 graduating class. Each student awardee received a scholarship for the 2018-19 academic year thanks to support from our generous donors.
The Fenburr Scholarship for Women and Underrepresented Groups was established with generous funds from the Herbert and Dorothy Joseph Fenburr Scholarship Endowment Fund for Geography. The Fenburr funds are to be used to support underrepresented students, with a special focus on recognizing academic excellence and professional development.
The Fenburr was awarded to Victor Mikus a continuing student who is majoring in Geographic Information Science.
The Huntington Award for Outstanding Undergraduates was created with funds from the Charles Clifford Huntington Memorial Fund, established with a generous gift from Helen Hughes Huntington in the memory of her husband, Professor and department chair Charles Clifford Huntington.  Professor Huntington was the first faculty member appointed in Geography at Ohio State – 110 years ago!   The goal of the Huntington award is to honor students' achievement in the classroom and who are also significantly engaged in research, service and/or leadership. The student chosen for the Huntington was nominated by a faculty member.
Maeve Scully was the recipient of the Huntington award this year.
The Sharpe Scholarship for Outstanding Undergraduates is provided with funds from the Gary L. Sharpe Scholarship Fund in Geography, established in 2010. Gary L. Sharpe was a graduate of Ohio State, and earned his B.A. in 1970. The scholarship provides generous funds for undergraduate students from Ohio, majoring in Geography. Students who receive this award are chosen based on their excellence in the classroom.
The Sharpe Scholarship recipients were Jason Kindinger and Isabella Niemeyer.
The Taaffe Award for Outstanding Undergraduates in Atmospheric Science, and Climate and Physical Geography was instituted with generous funds from the Edward J. "Ned" Taaffe Memorial Fund in Geography. Professor Taaffe was chair of our department from 1962-1974, and president of the Association of American Geographers (1971-1972).  The goal of the Taaffe award is to honor students' achievement in the classroom and who are also significantly engaged in research, service and/or leadership.
The Taaffe Award was presented to Josh Steiner and James White.
The Robinson Award for Outstanding Undergraduates in Geographic Information Science and Spatial Analysis was established with funds from the Arthur H. Robinson Fund.  Professor Robinson received his PhD from Ohio State in 1947 and went on to have a storied career at the University of Wisconsin.  The goal of the Robinson award is to honor students' achievement in the classroom and who are also significantly engaged in research, service and leadership.
Xiaoran Wang was the recipient of the Robinson Award.
The Lewis Family Scholarship was established with gifts from Brian W. (a 1976 graduate of OSU) and Sherri Lyn Lewis.  The fund provides merit-based scholarships to undergraduate students in the Department of Geography.  Consideration is given to students with a minimum 3.0 grade point average with preference to candidates majoring in geographic information science and interested in cartography.
Recipients of the Lewis Scholarship were Alexander Bryan, Mackenzie Gilliland, Wyatt Guthrie, and Ruiyu Tan.
Graduates from the Department of Geography included 33 Bachelor of Arts students with 22 majoring in Air Transportation and 11 in Geography.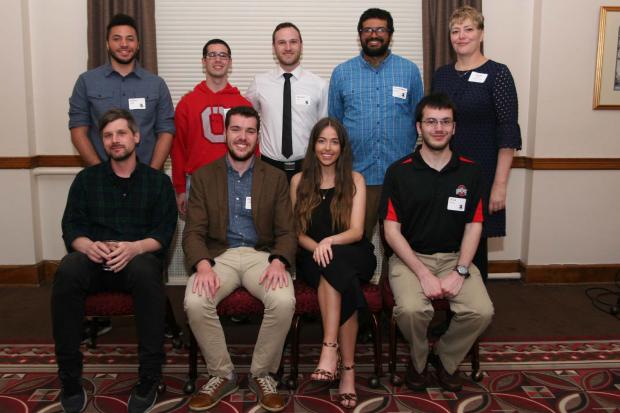 Bachelor of Arts Graduates:  Front row:  Daniel Riffe, Patrick Cleary, Maeve Scully, and Nick Messina.  Back row: Jeff Dunkle, Daniel Goldenberg, Michael Cline, Jason Kindinger, and Darla Munroe (Dept. Chair).
Ten students completed the Bachelor of Science in Atmospheric Sciences and two were awarded a Bachelor of Science in Geography for Physical Science.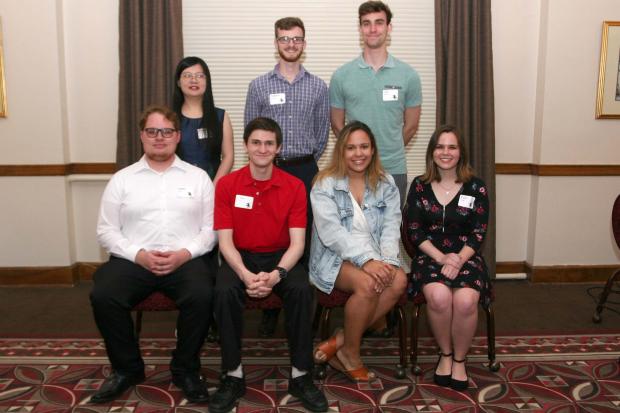 Atmospheric Sciences and Physical Geography Graduates:  Front row:  Josh Steiner, James White, Morgan Clark, and Cara Gregg.  Back row:  Zhouxing Liao, Andrew Hutchman, and Gus Wulsin.
For the Bachelor of Science in Geographic Information Science, 34 students received their degrees.  Fifteen students completed their Bachelor of Science degrees in Geography with a specialization in Spatial Analysis.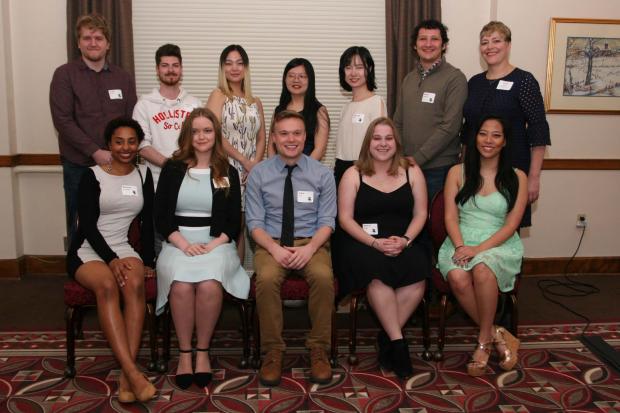 Geographic Information Science and Spatial Analysis Graduates:  Front row:  Brianna Cunningham, Mackenzie Gilliland, Alex Bryan, Rachel Katsman, and Minna Ratanapan.  Back row:  Cody Rhodes, Damien Desmond, Ruiyu Tan, Zhouxing Liao, Xiaoran Wang, Jacob Newbright, and Darla Munroe (Dept. Chair).
Congratulations Class of 2019!
---